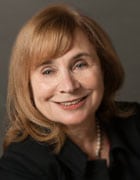 Ronne G. Kaplan, the principal and founding attorney of Kaplan Family Law, LLC, has practiced law for over 32 years. Since founding, Kaplan Family Law, LLC in 1996 she has steered the firm to become amount the most respected family law firms in the Greater Atlanta area. Ronne has worked exclusively in the area of divorce and family law, assisting individuals enter new phases of their lives and devising creative and fair solutions in divorce, child support, custody, alimony, visitation, pre­nuptials and all other areas of family law.
Ronne graduated from New York University School of Law in 1975. Following law school, Ronne was appointed as Jimmy Carter's Congressional Campaign Director in Montgomery County, Maryland. Upon President Carter's election, Ronne was appointed as Special Assistant to the Secretary of Education in the Departments of Health, Education and Welfare and the Department of Education. In 1984, Ronne was selected to be the Director of Continuing Legal Education at Fordham University School of Law in New York City.
Ronne relocated to Atlanta in 1993 and worked with a small law firm handling general civil litigation. Three years later, Ronne started her current practice.
Since establishing Kaplan Family Law, LLC, Ronne has successfully handled many divorce, custody and other family law matters. She is renowned for her skill to handle complicated and highly complex cases. Ronne and her team are well known by judges and opposing counsel to be meticulous in backing up their client's allegations with hard facts and documents.
Ronne's reputation as a divorce and family lawyer is widely recognized by her peers. She has received the "AV Preeiminent" rating by attorneys and judges for the highest level of Professional Achievement from Martindale-Hubbell (an information services organization to the legal profession established in 1887); and given the highest rating of "10" – from AVVO (a professional legal services organization).
Education and Experience:
New York University School of Law, Juris Doctor, 1975
Hunter College of the City University of New York, Master of Science in Education, 1973
Lesly University, Bachelor of Science, 1970
Professional Development
ABA Family Law Trial Advocacy Institute, Houston, Texas   2004 Gradua
Bar Admissions:
State Bar of Georgia, 1995
Supreme Court of Georgia, 1996
Court of Appeals of Georgia, 1996
United States District Court For the Northern District of Georgia, 1996
District of Columbia Court of Appeals, 1991
Supreme Court of Pennsylvania, 1986
Supreme Court of the United States, 2003
Professional Affiliations:
State Bar of Georgia

Family Law Section
Law Practice Management

Atlanta Bar Association

Family Law Section
Board of Trustees – Continuing Legal Education
Solo Practice Section
Women in the Professional Section
Vinings Networking Co-Chair
Membership Committee

Cobb Bar Association

Family Law Section
Women of the Bar Section

American Bar Association

Family Law Section
Law Practice Management Section

Collaborative Law Institute of Georgia