Experience has taught us that a team approach is the most effective method to handle each case. Every member of our team plays an important role that fits into the overall plan to resolve every case. We utilize an efficient and cost-effective system to assign responsibilities to the team member best equipped to perform a task at the least expense to each client. All work is supervised by Ronne G. Kaplan.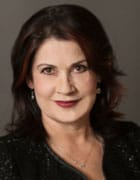 Shari Brunson, CPA, Senior Paralegal
Shari is a Certified Public Accountant and our senior paralegal. Working for a small firm, Shari wears many hats. Just to name a few, she serves as client coordinator, senior paralegal and office manager. Shari is the client's "go-to" person, and has the ability to earn the trust of clients, especially when they are experiencing the challenges of a family law matter. She is genuinely interested in our clients and it shows!
Shari previously worked as a controller for residential management companies. Family law has become very "numbers" driven and Shari's background in forensic accounting is a big asset to our firm.
Shari has a son and a daughter, which she considers to be her biggest and most fulfilling accomplishment. In her spare time, Shari enjoys being with her family, entertaining, reading, gardening and traveling.
Education:
California State University at Northridge, Bachelor of Science
Download Shari's vCard